Explore Careers in the Boating Industry. Think outside the cubicle. Choose your workspace.
Palm Beach County's Marine Industry has an annual economic impact of $2.1 Billion &
jobs are supported annually.

As the marine industry grows and prospers, so do the number of career opportunities. According to a recent study completed by Thomas J. Murray & Associates, Inc. for the Marine Industries Association of South Florida, the number of marine industry jobs in Palm Beach County has increased 16% between 2014 and 2018.
If this growth continues, there will be over 700 new marine related jobs each year in Palm Beach County alone.
JOBS ANNUALLY SUPPORTED BY PALM BEACH COUNTY'S MARINE INDUSTRY
Palm Beach County's Marine Industry annually supports an estimated 21,135 jobs. In the Tri-County area, Retails Trade makes up the highest percentage of job types at 31% followed by Marine Services at 23%, while in Palm Beach County, Marine Services makes up the highest percentage of job types at 31% followed by Retail Trade at 30%
BREAKDOWN OF ESTIMATED ECONOMIC IMPACT OF MARINE INDUSTRY IN PALM BEACH COUNTY*
| | | |
| --- | --- | --- |
| Marine Services | 6,542 Jobs | $676.3 Million |
| Retail Trade | 6,301 Jobs | $651.4 Million |
| Wholesale Trade | 4,060 Jobs | $419.7 Million |
| Dockage | 2,260 Jobs | $233.6 Million |
| Manufacturing | 1,972 Jobs | $203.9 Million |
*Thomas J. Murray & Associates, Inc, Economic Impact of the Recreational Marine Industry, Broward, Miami-Dade, and Palm Beach Counties, Florida - 2018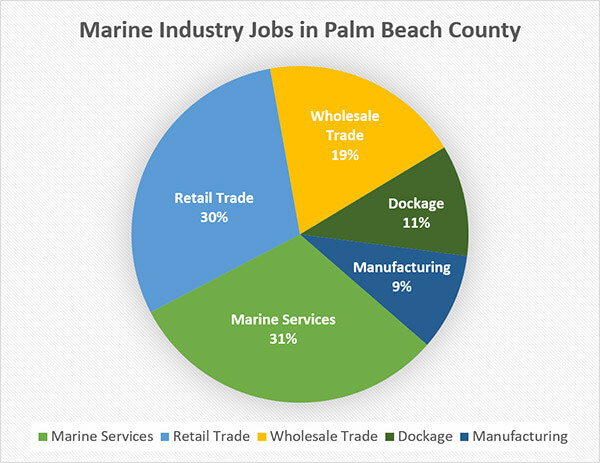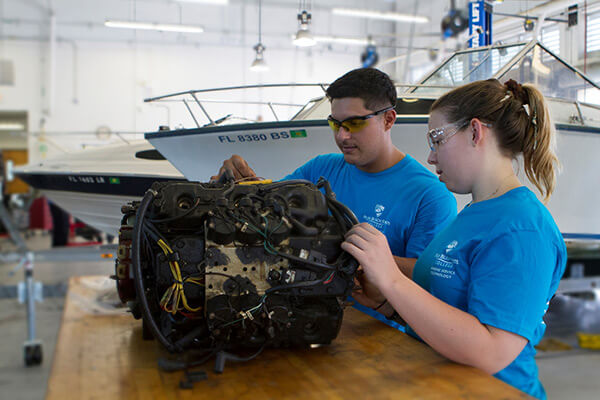 TYPES OF JOBS AVAILABLE IN THE MARINE INDUSTRY
Deckhand
Detailer
Management
Marine Carpenter
Marine HVAC
Marine Technician
Marine Welder/Fabricator
Office Support
Sales
Education & Workforce Resources