Annual Sponsorship & Advertising Opportunities
Palm Beach International Boat Show Kickoff Party
Each year the night before the Palm Beach International Boat Show opens, the Marine Industries Association of Palm Beach County hosts members and other dignitaries aboard a cocktail barge within the show, offering an open bar, selection of hors d'oeuvres, and live entertainment. Sponsorship begins at $1,000.
Palm Beach Holiday Boat Parade
This is the perfect opportunity for you to show your community spirit and promote your business to hundreds of thousands of people. Sponsor packages are made to suit every business size and budget, and are detailed in separate brochures. Sponsorship starts at $500.
Monthly Membership Events: Marine Mingles & Dinners
Membership in the Marine Industries Association of Palm Beach County includes business owners and representatives of the industry from a wide variety of industry segments. They proudly represent our industry at regular monthly events, which can be hosted or sponsored by a member. The host/sponsor member will be promoted in invitation(s) sent to our entire contact base via email and social media as we encourage attendance for the event. The host/sponsor will also be able to display company banners, materials, etc. at the event. Cost is $1,000 or in-kind.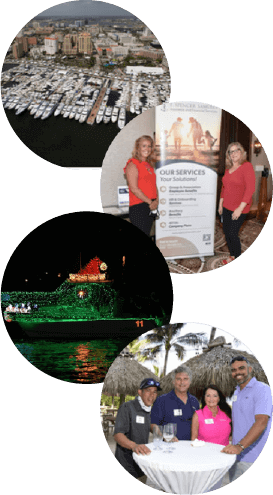 Boater's Directory of Palm Beach County
The official membership directory of the MIAPBC (only member businesses are included) and official register of marine businesses in PBC
Published annually in March for distribution at the Palm Beach Intl. Boat Show
Available for boaters to pick up at local marinas and marine retail establishments
Distributed at fishing tournaments and other local marine events throughout PBC
Available in digital format
The area's most popular (and free) reference guide for boaters
Advertising begins at $300
MIAPBC Boating South Florida Publication (The Palm Beach Post)
Mailed directly to Palm Beach Post subscribers
Available online in a digital format
Published the Sunday prior to PBIBS in March
MIAPBC members benefit from heavily discounted advertising rates starting at only $750
Bundle two or more opportunities for 10% off the total cost!
For more information on these opportunities please call Alyssa Freeman at
(561) 863-0012 or email Alyssa@marinepbc.org